Episodes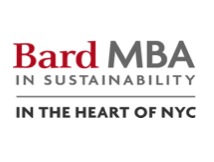 Tuesday Sep 29, 2015
Tuesday Sep 29, 2015
On September 25th, Bard MBA in Sustainability spoke with Catherine Sheehy, Program Manager from UL Environment.

UL advances the recognition of sustainable products and drives purchaser clarity by bringing trusted transparency to the green marketplace. We will explore the shifting landscape and growing importance of independent safety science as we enter a world filled with new, more sustainable technologies.

Join the Bard MBA in Sustainability program for our twice-monthly dial-in podcast series over your lunchtime featuring sustainability leaders from the New York City area and across the planet.

Dial in: 845-746-2287 (no need to enter a pin to join the call)

Sustainable Business Fridays convenes every first and fourth Friday of the month during the semester, with special guests selected by students in the Bard MBA in Sustainability program.